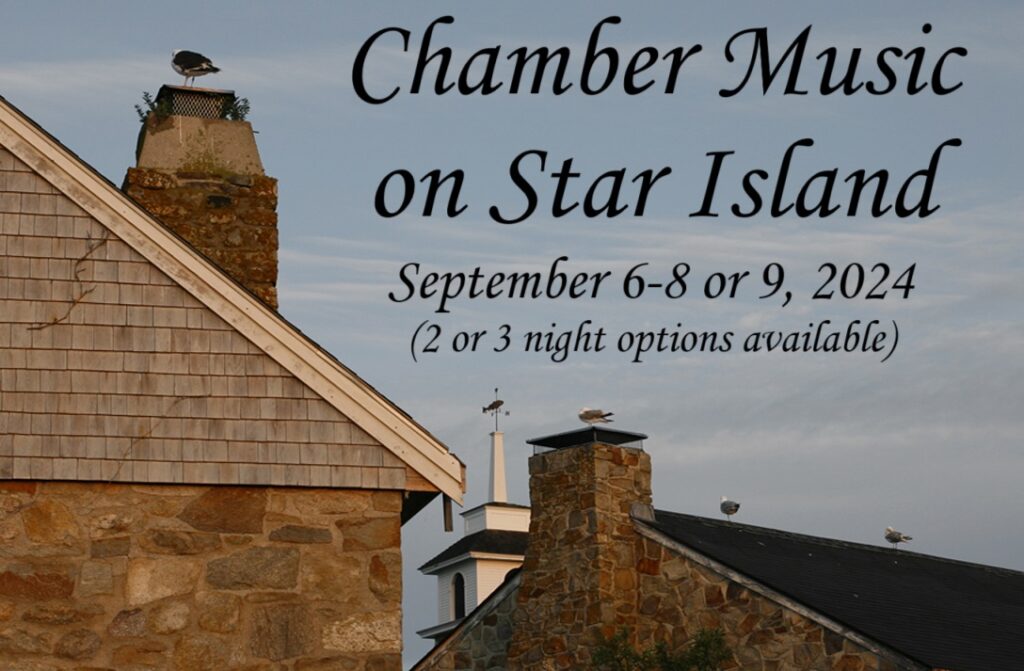 10th Season of Glorious Music on Star
If listening to Bach, Mozart, Saint-Saens or Gershwin (and the occasional sea gull or splash of a wave) in an informal setting is your thing… if the quiet of September after Labor Day with the continued warmth of summer interests you… if the uniqueness of a few days without TV or cooking meals sounds good… if a lecture on some local history and quiet reading time on a porch rocker overlooking rocks and sea brings you joy and peace, then the Chamber Music on Star Weekend is right for you.
Chamber Music on Star is a weekend of carefully chosen music performed in unique venues — the ancient chapel on the hill with only candlelight, the hotel's 19th century lobby, a drawing room with sofas and ocean view windows. The musicians are professionals who keep returning to the uniqueness of this place and enjoy not only performing but the opportunity to talk about the music we hear and about their lives as musicians. They also sit across from us at meals or beside us on a porch rocker. And the conversation continues.
There are three concerts from Friday evening to Sunday, plus ample time and opportunity to sample some of the other activities available. We share the Island with several other groups including the Isles of Shoals Historic and Research Association (ISHRA). Their lectures are top notch and some are open to us. There is a morning exercise group, tennis courts (modest quality), ocean swimming and boating, birding, walking and happy hour before dinner. Combined with some quiet time rocking on the porch, it's a full weekend. For those who wish, the visit can be extended a day or into the following week by joining other program groups.
Whether you have been with us from the beginning or are joining us for the first time, we welcome each and every one of you to our tenth season. See you at Chamber Music on Star for wonderful concerts and more on beautiful Star Island. 
Irene and John Bush, Jill Brody, Chairs
Janis Bestul Ossmann, Registrar
If you have questions, please contact our Registrar, Janis Bestul Ossmann, at registrar.cmos@gmail.com.